A visit to Sirdalen 14.4.21, to check out what Sirdalen  can offer its visitors. Now that it looks like Norwegians will be on holiday in their own country all summer due to Covid. Norwegians are known for maintaining a high standard of their holiday stays and therefore it is important for Sirdal Hytteformidling to be careful with the preparations before each visit.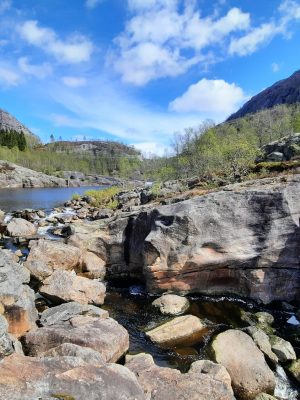 All cabins must be prepared and warm until the guests arrive, says Szuster Kamil who runs the cabin agency. For 15 years, the company has existed and operated cabins for both Norwegian and foreign tourists.
This year, it seems that Norwegian tourists will use the cottage market due to covid-19. Renting a cabin is a very reasonable both because of flexibility and price. The cabins that Sirdal hytteformidling rents out have a minimum of 1 bathroom, washing machine, stove, duvets and pillows and a lot of accessories that make the cabin experience cozy. Some additional services cost a few kroner extra, but given the service of not having to bring bed linen and towels, it is worth the price. The prices of these extra service may vary slightly.
Good value and green stay.
Renting a cabin is often good economy, but also good for the environment. You do not have to worry about annual maintenance, you do not have to decide whether to have a cabin by the sea or a cabin on the mountain. You can simply choose both. When there is also a fairly reasonable price compared to other stays, the cabin experience becomes extra pleasant.
The cabins for rent are located by ski resorts and ski slopes, so you can be sure that the location is good for outdoor activities in the winter.
In the summer, there are a large number of trips and activities in the Sirdalen. The summer of 2021 is set to be a summer holiday in your own country. This means that more people should also use Norway's nature also on weekends and smaller free periods, to get the most out of the summer.